Bluetooth connectivity
Thanks to Remootio's Bluetooth connectivity, you can control your gates even when WiFi is not available at your gates or when the internet service is down.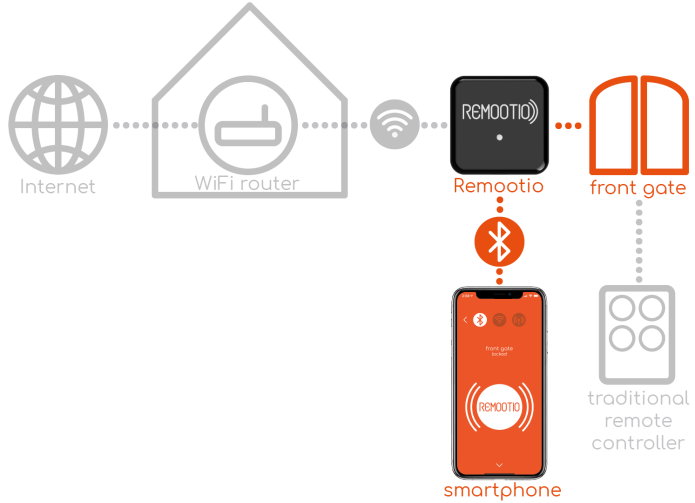 Wi-Fi connectivity
You can also connect Remootio to your home WiFi and control your gates from anywhere within your house. In this mode, no data goes through the internet.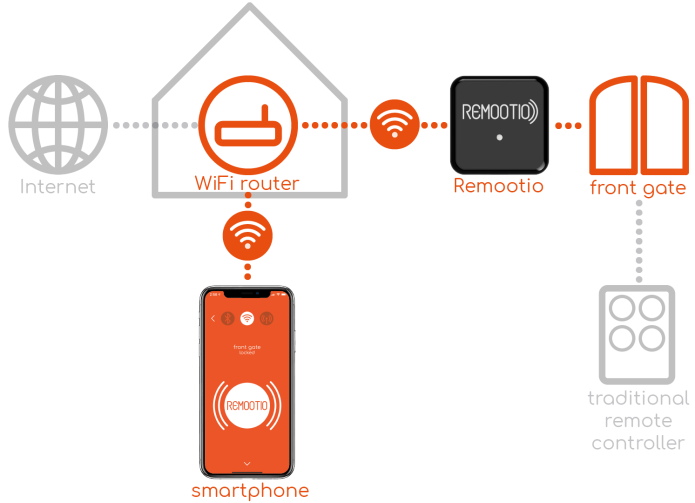 Internet connectivity
Thanks to Remootio's internet connectivity, you can control and monitor your gates from anywhere in the world. You can setup internet access easily with a simple click in the Remootio App.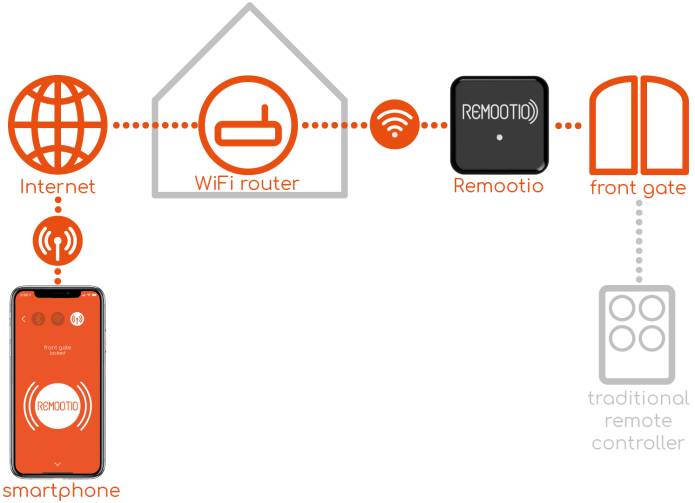 compatible with Alexa
Remootio is also compatible with Alexa, so you can ask her to close or open the gate for you and you may also ask her if your gates are left open. If you wish to use Alexa with Remootio, choose the version with the sensor add-on so that Remootio (and therefore Alexa) is aware of your gate's status.
Easy keysharing
You can easily share keys with family and friends or even Airbnb guests via QR code or via text message. (You can also use the messaging platform of any social media apps to share keys).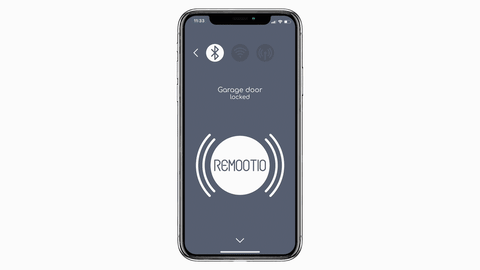 Remootio comes with a guest key (this can be shared with an unlimited number of people) and 20 unique keys which you can manage one by one in a simple, easy to understand table
Key management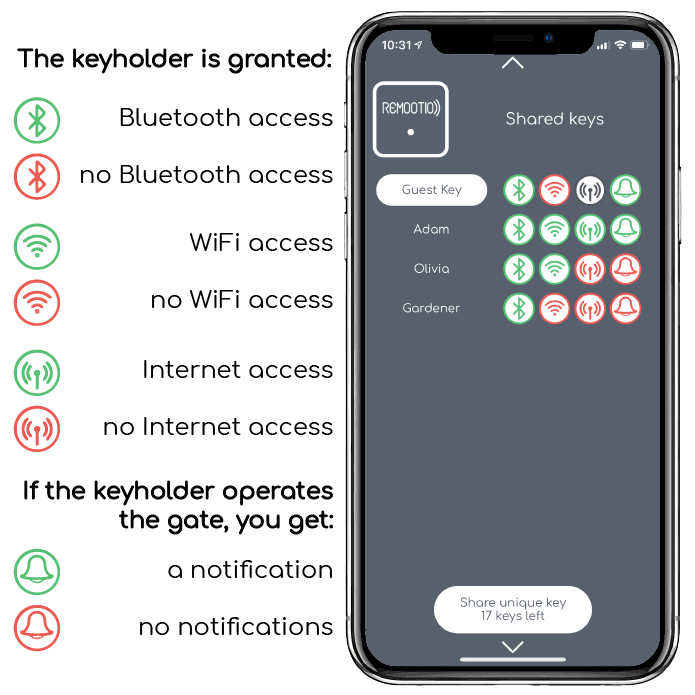 You can get notifications when certain keyholders (such as your children or your gardener for instance) operated the gate so that you know when they arrived and when they left. You may also revoke access any time by long-pressing the name of the keyholder and selecting "delete".
Auto open
Remootio can open the gates automatically as you approach them if you turn on the auto-open feature in the Remootio app.
Check gate status
You can check whether your gate is open or closed from the Remootio app any time. This feature requires the sensor to be installed.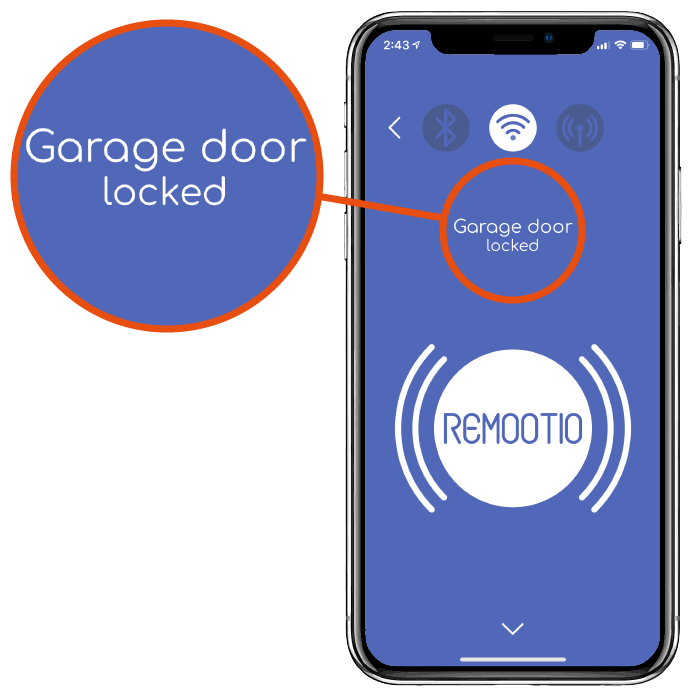 Notifications
Remootio can send you notifications in the following cases:
A certain key holder operated the gate. For example you would like to know when your child arrives home
Someone rang the doorbell
A gate is left open for 5 minutes
Wide input power acceptance
In order to make Remootio compatible with as many gate openers as possible we have designed its power unit to work with a very wide input voltage range both with direct and alternating current:
Direct current: 6-36V (polarity independent)
Alternating current: 12-24V

The only requirement besides the voltage range is that the power supply must be able to provide 500mA current to the Remootio device.
Most gate opener electronics fall in the voltage range of Remootio, but if yours is different you can still get the Remootio power adapter, which you may use with the standard EU type 230V or US type 110V sockets.
Customizable app
From the Remootio app you can easily rename, add a photo and select a background color for each gate and garage door so that you can easily find it when you are swiping through your devices.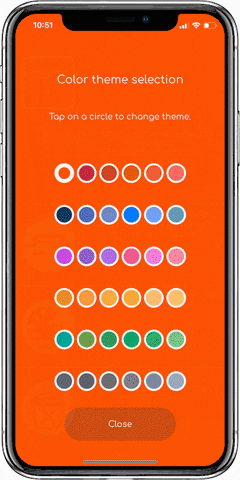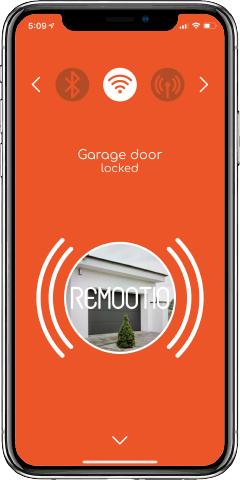 Multiple languages
In order to make Remootio accessible for everyone, the Remootio app is available in multiple languages.
Small size
Thanks to its small dimensions, Remootio fits just about anywhere.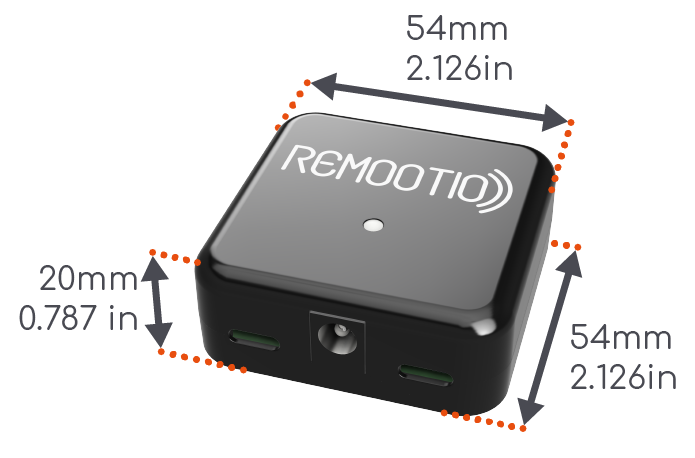 Works in parallel with your old RC
You don't have to get rid of your old remote control yet. You can connect Remootio in parallel with the receiver unit of your old remote controller and keep using both.
Security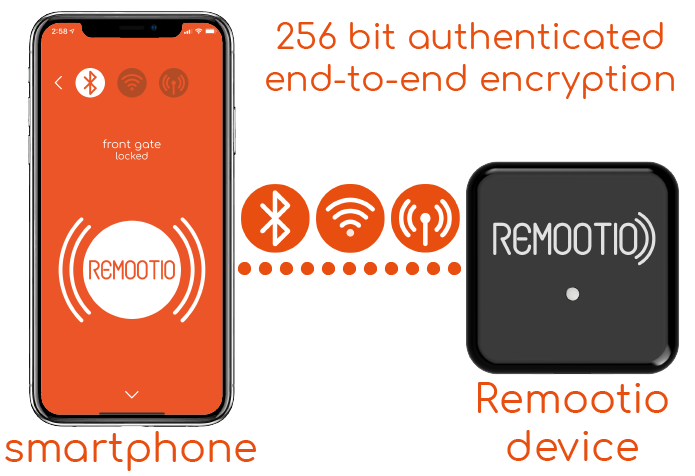 When it comes to devices that can open and monitor your gates and doors, security is extremely important, that's why we have put so much thought and effort into Remootio's security. Independently from whether you use Bluetooth or WiFi, Remootio uses 256 bit authenticated end-to-end encryption between your smartphone and the Remootio device. From the Remootio app you have full control over how your smartphone connects to your Remootio device. You can choose from three options:
​ Bluetooth : in this mode Remootio only uses its Bluetooth module. No data goes through your WiFi network in this mode. On top of the standard Bluetooth security, the authenticated 256 bit end-to-end encryption ensures security in this mode.
Home WiFi : in this mode Remootio only uses its WiFi module without Bluetooth. No data goes through the internet. All data remains within your home WiFi network.
The authenticated 256 bit end-to-end encryption also ensures security in this mode.
Internet : in this mode Remootio is connected to the internet via WiFi. On top of the industry standard SSL connection, the authenticated 256 bit end-to-end encryption guarantees security in this mode. We have created a one-click-setup-environment for setting up the internet connectivity (recommended for most users), but if you are an experienced user you can also define the internet address of your device in the App to setup a peer-to-peer connection.
Keys are generated during setup and are only stored on your smartphone and the Remootio device itself. Your keys are not stored anywhere else. Even the setup process is protected against hackers trying to get your virtual keys as it uses the highly secure, state-of-the-art Ephemeral Elliptic Curve Diffie-Hellman key exchange method, which together with the additional certificate validation and digital signature scheme, is resistant to eavesdropping, man-in-the-middle and other attacks. Remootio, unlike other gate controllers, is not cloud-based , so your security does not depend on a third party (such as a cloud service provider)
Any time your smartphone sends a request to the Remootio device, it sends a unique mathematical problem back to the smartphone which it can only solve using the key the two devices agreed on during setup. Since this mathematical problem is always different, signals for two opening cycles are never the same, therefore Remootio is protected against replay attacks . (It means that even if a hacker eavesdrops the communication between your smartphone and the Remootio device, and replays it to the Remootio device, the hacker won't be able to open your gates)
Compatibility
Remootio is compatible with most garage door and gate openers as well as several electromagnetic locks. Remootio's output for controlling the gates is a normally open relay output.Hint: If your gate or garage door supports a manual open button (wall button) feature, it is definitely compatible with Remootio. Even if it doesn't have this feature, it can still be compatible. Please check our non-comprehensive compatibility list or send us an e-mail with the brand and type of your gate or garage door to support@remootio.com .
Compatibility checker
Type the manufacturer and or model of your opener in the box below
Installation
All you need for installation is a cross head screwdriver, a smartphone and the Remootio device.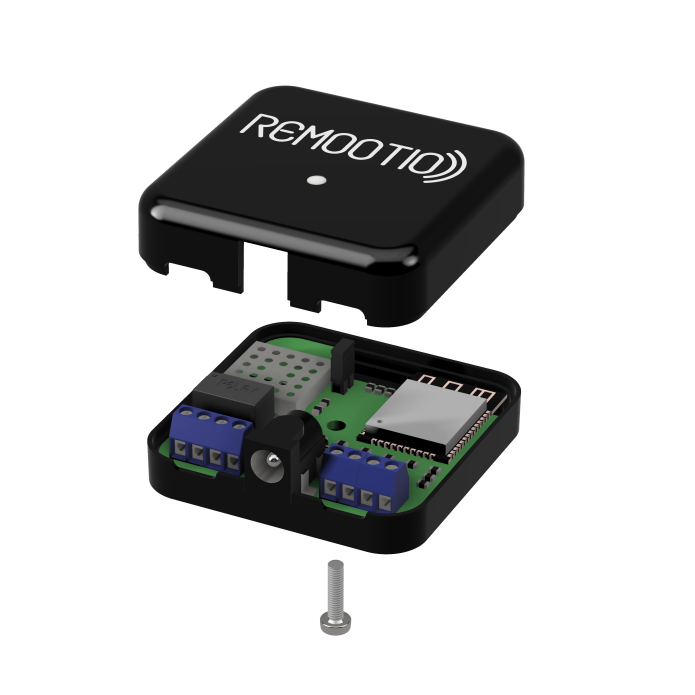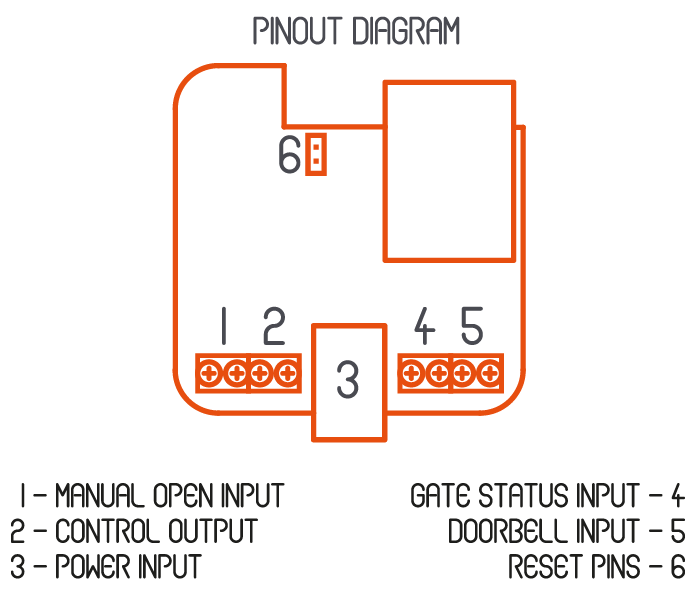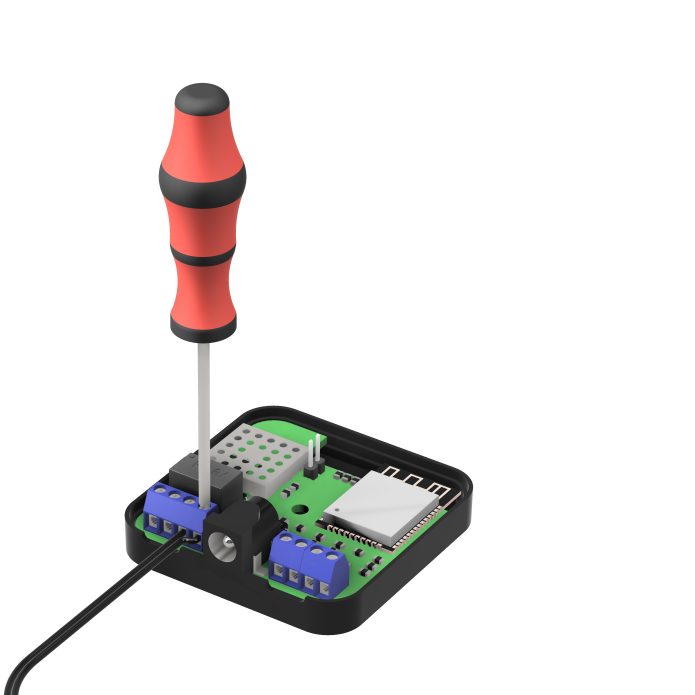 Accessories
To make Remootio even better, you can add some useful accessories:
Doorbell button
You can connect your existing doorbell or any "normally open" type buttons to Remootio's doorbell input and get notifications on your smartphone if someone presses this button.

Manual open button
You can enable or disable a manual control button from the Remootio app, which the courier or your friends can use to let themselves in until the button is in enabled status. The button you connect can be any "normally open" type buttons.

Gate status sensor
Connect a status sensor to get feedback about whether your gate or garage door is open or closed. Mount the part with the cable to a static (not moving) part of your gate and the wireless part to the moving part of your gate in a way that either in the completely closed or completely opened position the two parts are facing each other as seen below and the distance between them is not more than 10mm. No batteries are needed for the sensor.

Power adapter
If the output voltage of your existing gate controller is not within the range of 6-36VDC or 6-25VAC or if it cannot provide at least 500mA current, you will need a power adapter. Currently three versions are available: Type A (US), type C (EU) and a universal power adapter which is compatible with both type I (Australia, New Zealand) and type G (UK, UAE) sockets.